Dear friends in Christ,
I am writing this the day before the US presidential election, because I don't want my own personal thoughts to color what I might say about the results and our going work. Suffice it to say, some people will be pleased by the final results of local, state, and federal elections, and others will not be. And yet, we Americans need to find a way to live together.
As I have said many times, the Gospel is political, but it is not partisan. Regardless of which political party is ascendant, our Christian work remains the same. We are meant to feed the hungry, give water to the thirsty, welcome the stranger, clothe the naked, care for the sick, and visit prisoners (Matthew 25). We must pray for our enemies and work for peace. We must love one another as Christ has loved us.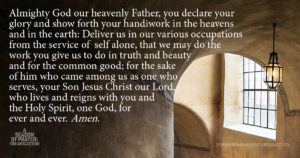 Not knowing what the news brings on the morning you read this, I do know that prayer is never the wrong answer. I invite you to join me in the final prayer of our nine-day cycle of prayers for the election.
Almighty God our heavenly Father, you declare your glory and show forth your handiwork in the heavens and in the earth: Deliver us in our various occupations from the service of self alone, that we may do the work you give us to do in truth and beauty and for the common good; for the sake of him who came among us as one who serves, your Son Jesus Christ our Lord, who lives and reigns with you and the Holy Spirit, one God, for ever and ever. Amen.
And I close with the lovely and challenging benediction from the fifth chapter of 1 Thessalonians.
Be at peace among yourselves. And we urge you, beloved, to admonish the idlers, encourage the fainthearted, help the weak, be patient with all of them. See that none of you repays evil for evil, but always seek to do good to one another and to all. Rejoice always, pray without ceasing, give thanks in all circumstances; for this is the will of God in Christ Jesus for you. Do not quench the Spirit. Do not despise the words of prophets, but test everything; hold fast to what is good; abstain from every form of evil. May the God of peace himself sanctify you entirely; and may your spirit and soul and body be kept sound and blameless at the coming of our Lord Jesus Christ. The one who calls you is faithful, and he will do this.
Yours faithfully,
Scott Gunn
Executive Director

Subscribe to receive Forward Today in your inbox.
---
Listen to today's Forward Day by Day reflection on the Forward Day by Day podcast. Find morning prayer on the Morning at the Office podcast and end your day with the Evening at Prayer podcast. Available anywhere you listen!
---
In case you missed it…
Advent 2020 resources | Forward Movement
Check out our Advent interactive eCatalog | Forward Movement
NEW: Growing Christians | Forward Movement
Lent Madness 2021 saints announced | Lent Madness
A Season of Prayer | Forward Movement and The Episcopal Church Office of Government Relations