Dear friends in Christ,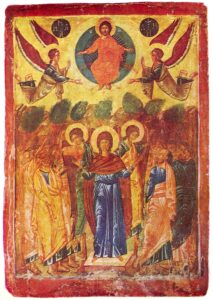 Tomorrow we celebrate Ascension Day. Rather than getting hung up on the logistics of how Jesus returned to his Father in heaven, I hope we can focus on the truth that this day celebrates. In returning to heaven, Jesus has blessed his followers to carry on his ministry of reconciliation. He has also promised to intercede for us to his Father in heaven. We have an advocate!
I am especially heartened by Jesus' promise that he will never abandon us. The NRSV translation we usually read in Episcopal churches says that Jesus will not leave us orphaned. Personally, I prefer the language of the Authorized Version (King James): "I will not leave you comfortless."
Jesus says we're never alone. He promised he would send the gift of the Holy Spirit, and he delivered on that promise on the Day of Pentecost. He has promised to abide with us always. You can read that promise in the very last verse of Matthew 28.
Isn't that good news? We are not left on our own to face the challenges in our lives. Jesus hasn't promised to make things easy for us—quite the opposite!—but he does tell us he's with us in our triumphs and in our struggles.
That's a beautiful truth to celebrate, and that's part of what we celebrate tomorrow. Whatever else might happen in this earthly life, know that Jesus is for you. Always.
Yours faithfully,

Scott Gunn
Executive Director
P.S. Forward Movement is looking for feedback so we can improve our ministry. You can help us by filling out this survey with your honest responses: forwardmovement.org/survey.
As a thanks for your time and consideration, we'll provide everyone who completes the questionnaire with a discount code for 15% off your next Forward Movement order. Thanks for your support!
---
More from our ministry:
Invitations from Father, Son, and Holy Spirit: A Generous Beckoning
Take prayer with you wherever you go with the portable BCP Gift Edition
Reflect on living a Jesus-centered life: The Way of Love Practical Guide
From the Grow Christians archive: Superman Jesus and the Ascension