Dear friends in Christ,
Today marks the beginning of autumn. I don't know about you, but it hardly feels that way to me. Just yesterday we were sweltering with summer weather in Cincinnati. And most of my beloved autumn rituals aren't happening because of the pandemic.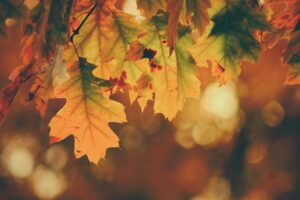 I've spoken with a lot of clergy lately, and it seems like just about every church is out of sorts. Normally, this time of year finds the launch of a program year with new classes and programs and the return of people who may have been away for the summer. There's often a buzz of positive energy.
My sense is that I'm not alone in feeling that this autumn is strange. Some people might be missing the "usual" activities of this time of year. Others might think too much is happening, and we should step back. And almost everyone I know is tired, exhausted even.
So what are we to do? It's easy to say that we should let go of our expectations, but it's hard to live that way.
Perhaps what we can do is find the few signposts of autumn that we enjoy and cling to those. Maybe your church is offering a Bible study this fall again, but it's online instead of in-person. Is it possible to enjoy it for what it is? There are plenty of other examples.
I'm not here to tell anyone how to feel! But if I can offer encouragement or consolation, I hope I can do that.
You're not alone if you struggle with life in this moment. And, at the same time, it's a worthy practice to find positive glimmers of hope.
Now more than ever, I find prayer and scripture study to be incredibly life-sustaining. Perhaps you'll join your church's morning prayer group, or read Forward Day by Day, or try out the Forward Movement daily office podcasts.
Blessings to you. We'll get through this. After all, Jesus has promised to be with us until the end of the age. THAT we can always count on.
Yours faithfully,

Scott Gunn
Executive Director
---
More from our ministry:
From Grow Christians: In the Middle
From Grow Christians: Transforming Our Back to School Fears
From RenewalWorks: Blessed are those who mourn
Spend the program year with Forward Movement: Learn more!