Dear friends in Christ,
This coming Sunday, the assigned epistle reading is from 1 Thessalonians. We read how St. Paul greets the Thessalonians and then says this:
For the word of the Lord has sounded forth from you not only in Macedonia and Achaia, but in every place your faith in God has become known, so that we have no need to speak about it. For the people of those regions report about us what kind of welcome we had among you, and how you turned to God from idols, to serve a living and true God… (1 Th 1:1-10)
There's a lot to notice here. The Thessalonians have proclaimed the Gospel so effectively that St. Paul does not need to say more. We also read that the people of Thessalonica turned from idols to serve the living and true God.
We shouldn't make the mistake of thinking that turning from idols is something that only ancient biblical people needed to do. In our baptismal service, we ask those to be baptized to renounce Satan and spiritual forces of wickedness, to renounce evil powers of the world that corrupt us, and to renounce sinful desires that draw us from the love of God. And then we ask them to promise to turn. We ask them to turn toward Jesus as our Savior and Lord, and to promise to put their whole trust in his grace and love.
We expect that the baptized life turns us from evil toward good, from Satan toward Jesus, and from distraction from God's love toward trust in God's love.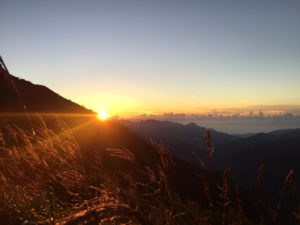 It's very relevant today. We have made an idol of money. We may say we trust God, but it's pretty easy to live as if money is what we trust. We have made an idol of security, as if it's possible to be safe or as if the scriptures don't tell us again and again to reject fear.
I'm not suggesting that we shouldn't use money or that we shouldn't take prudent care of our selves and our world. But I do believe the scriptures call us to center our lives on trust in God's grace.
What would it look like if we, like the Thessalonians, served the living and true God?
We would behave as if we know that God is living. God is not an abstraction or an ancient myth, but a living being who loves us more than we can imagine. God is alive and acts in our world.
We would behave as if we know that God is true. In an age in which we often invite "your truth" and "my truth", we would proclaim the absolute certainty that God and God's love are true. We would proclaim that we live in a reality in which some things are demonstrably false and others are demonstrably true. God's grace and mercy is true, and we can trust that with our very lives.
What would it look like if we, like the Thessalonians, served the living and true God?
Yours faithfully,
Scott Gunn
Executive Director

Subscribe to receive Forward Today in your inbox.
Photo: Pixabay
---
Listen to today's Forward Day by Day reflection on the Forward Day by Day podcast. Find morning prayer on the Morning at the Office podcast and end your day with the Evening at Prayer podcast. Available anywhere you listen!
---
In case you missed it…
Preorder: Growing Forward | Forward Movement
Civil Conversations in Uncivil Times | ChurchNext
Now Available: Share it Forward Packs | Forward Movement
A Season of Prayer | Forward Movement and The Episcopal Church Office of Government Relations