Dear friends in Christ,
This coming Sunday's Gospel reading brings us Jesus giving the Great Commandment. When asked which commandment in the law is the greatest, Jesus answers,
"'You shall love the Lord your God with all your heart, and with all your soul, and with all your mind.' This is the greatest and first commandment. And a second is like it: 'You shall love your neighbor as yourself.' On these two commandments hang all the law and the prophets."
Jesus is quoting Deuteronomy 6 and Leviticus 19 here as he focuses the entire faith on just two things: we are commanded to love God and to love our neighbors.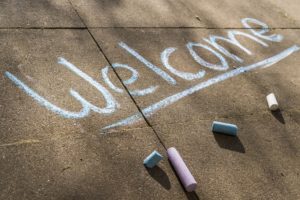 Talk about easier said than done! It's easy to say we love God, but to love God with our whole being would be quite something. Take the mind for example. If I loved God with my whole mind, I wouldn't be filling my mind with distractions such as mediocre television and social media scrolling.
And when Jesus tells us to love our neighbors, he is of course not just talking about the people who live next to us, people who are likely to be in our same cultural group, race, and economic status. He takes care elsewhere to teach us that our neighbors are, well, pretty much everyone.
Love God, love people. It seems so simple, and yet it is so hard to do.
When the world feels like it's spinning out of control, we can become immobilized by a feeling of powerlessness. What can I do about all the problems? Just two things.
We can start with our own lives by loving God and loving our neighbors. Love is magnified as we share it. If more of us spent more of our energy loving God and loving our neighbors, the world would look different. Our church would certainly look different.
So I invite you, this very day, to just doing as Jesus commands, just two things. Love God. Love neighbor.
It's impossible on our own, but we have a church filled with fellow disciples to be our companions. And we have the grace of God to help us.
Yours faithfully,
Scott Gunn
Executive Director

Subscribe to receive Forward Today in your inbox.
Photo: Pixabay
---
Listen to today's Forward Day by Day reflection on the Forward Day by Day podcast. Find morning prayer on the Morning at the Office podcast and end your day with the Evening at Prayer podcast. Available anywhere you listen!
---
In case you missed it…
Advent resources now available | Forward Movement
Read an excerpt from Growing Christians | Grow Christians
Civil Conversations in Uncivil Times | ChurchNext
A Season of Prayer | Forward Movement and The Episcopal Church Office of Government Relations