Dear friends in Christ,
If you are a regular reader of this email, you may have noticed that the last couple of weeks were written by colleagues at Forward Movement. I was away on vacation, and I'm grateful they kept Forward Today going.
Lots of folks enjoy some vacation time in the summer. Maybe you've been away or soon will be. There are lots of reasons to enjoy a bit of travel–or maybe a "staycation." We can see new places and new things. We enjoy hospitality of others. We can savor a bit of leisure.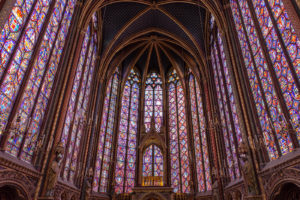 Sainte-Chapelle, Paris
I love travel, because the experience of difference always provokes me to reflect. The encounter with the unfamiliar sometimes opens my heart and my eyes in ways that I might not have experienced otherwise. And when I return to my normal place and normal routines, I sometimes find I'm changed in big and small ways. Maybe I notice things I hadn't noticed. Or perhaps I develop gratitude for something I had taken for granted.
Jesus was always taking his followers to new places, literally and metaphorically. I wonder if he knew there is value in a disrupted routine? As followers of Jesus, I think we're called to go to new places, whether it's a literal journey or a metaphorical voyage.
What about you, dear reader? Has a journey changed you? Has your faith grown in the encounter with the unfamiliar?
Yours faithfully,
Scott Gunn
Executive Director
---
Today's Flash Sale: Pathways of Faith: An All-Ages Coloring Book 
A coloring book for all ages—but especially for adults who may have forgotten the simple joys of creating—Pathways of Faith offers a respite from busyness and daily demands. Relax and restore as you spend time coloring these original illustrations that capture the amazing stories of the Bible and God's love for us. Come and spend some creative, refreshing time with God. The Lord knows we need it!