Dear friends in Christ,
As I write this, Cincinnati has been participating in protests the last few days, as people demonstrate following the killing of George Floyd. But the protests go way deeper than that. The United States was founded with the original sin of racism, as slavery was built in to our constitution. All men were created equal, but African-Americans were only three-fifths equal. And I don't need to recount for you the ways in which white people have profited from the exploitation of black people since then. The median weekly wage for African-Americas was, at last report, about 65% of white people's wages. That's just over 3/5, so in some ways, we haven't made much progress in the original sin of racism. I encourage you to learn more.
What we are seeing in our cities across the country is the expression of accumulated rage, grief, and frustration, not just from George Floyd's death, but from decades and even centuries of sinful racism. Before anyone objects to rage, I remind you that righteous anger is absolutely a valid and good biblical response to injustice. Read about Moses destroying the tablets and golden calf (Exodus 32:19-20). Read about Jesus cleansing the temple (John 2:13-16). Read the words of the prophets in the Old Testament (for example, Isaiah 58 or Amos 5:21-24). Read the psalms.
I don't know about other cities, but here in Cincinnati, the protesters' demands are largely reasonable. Mostly they have to do with police oversight and criminal justice reforms. Substantively responding to these demands would be a better response than riot gear and circling helicopters. In other words, I think we—as a nation, as a church, and as individuals—need to listen to what's behind the protests. We cannot let our views or our reactions be shaped merely by incendiary news coverage, which is always going to gravitate toward the most violent, most sensational moments.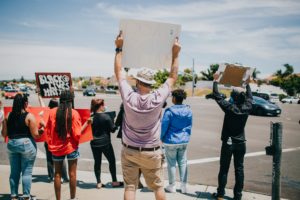 Earlier this week, I went to one of the protests and marched with people. This particular event was organized by young people, high school and college aged. News coverage of the protest I attended focused on visually captivating scenes: angry gestures, militarized police. But what, in fact, happened was that hundreds or perhaps thousands of young people, most under 30, marched peacefully to demand that their elected officials do a better job. Specifically, of course, they want to end the discrimination and violence directed at black people. I have trouble imagining how anyone calling themselves a Christian could object to most of what really happened or to what was really said.
This is long-term work. Acknowledging the long history of racial discrimination in the nation and in the Episcopal Church, our Presiding Bishop said, "We are not slaves to fate but people of faith. Our long-term commitment to racial justice and reconciliation is embedded in our identity as baptized followers of Jesus….That work of racial reconciliation and justice—what we know as Becoming Beloved Community—is happening across our Episcopal Church."
If you are, like me, a white person, know that dismantling white supremacy and systemic racism is our work. Our church is now, thankfully, offering many resources to help us all carry out a Christian response to the sins of racism and white supremacy. You might consider ways to get involved with Becoming Beloved Community. Learn more about The Union of Black Episcopalians and follow them on Facebook. If you are scandalized by the "political" nature of this week's Forward Today, check out the Social Justice Bible Challenge to see that there is nothing partisan or "political" about racial healing; it is part of God's desire for justice, mercy, love, and grace.
Our Presiding Bishop offers encouragement and hope for the hard work ahead. "Opening and changing hearts does not happen overnight. The Christian race is not a sprint; it is a marathon. Our prayers and our work for justice, healing and truth-telling must be unceasing. Let us recommit ourselves to following in the footsteps of Jesus, the way that leads to healing, justice and love."
I leave you with a prayer from page 260 of the Book of Common Prayer.
Almighty God, who created us in your image: Grant us grace fearlessly to contend against evil and to make no peace with oppression; and, that we may reverently use our freedom, help us to employ it in the maintenance of justice in our communities and among the nations, to the glory of your holy Name; through Jesus Christ our Lord, who lives and reigns with you and the Holy Spirit, one God, now and for ever. Amen.
Each night, as protests continue, I also pray that protesters and police will be kept safe, and I pray mightily that cries for justice will be heard.
Yours faithfully,
Scott Gunn
Executive Director

Subscribe to receive Forward Today in your inbox.
Photo: Unsplash
---



Racism and Racial Justice 
by Eduardo Bonilla-Silva
In this course, activist, author, and Duke University professor Eduardo Bonilla-Silva discusses the continuing plague of racism in this country and how to address it with these four presentations:
The New Racism
Colorblind Racism
Race and Class
Action
This course is ideal for individuals and congregations looking to deepen their understanding and conversations on racial injustice.
---
Listen to today's Forward Day by Day reflection on the Forward Day by Day podcast. Find morning prayer on the Morning at the Office podcast and end your day with the Evening at Prayer podcast. Available anywhere you listen!
---
In case you missed it…
Presiding Bishop Curry calls for justice and love | The Washington Post
We Live Here Now | Earth & Altar
Implement Revive Online | Revive
Downloadable addition to Hour by Hour | Forward Movement
---