Easter Sunday is only 13 days away! We have book club ideas, reading for individuals and families, a colorable calendar to follow the 50 days of Easter, downloadable resources, and more formation tools to inspire you and your congregation.
Shipping notice: Order soon to get your materials in time, and be sure to select a shipping option based off your delivery needs. Due to ongoing postal delays that are out of our control we recommend calling for any rush shipping information and charges. Call 800-543-1813 Monday-Friday, 8:00 am to 4:30pm ET and one of our helpful customer service team members to walk through options with you.
---
Alleluia! 50 Days and 50 Ways to Celebrate Easter
Easter is more than a day—it's a season! Unbury the alleluias and shout with joy, celebrating the risen Christ.
Illustrated by award-winning cartoonist Jay Sidebotham, this calendar poster invites spiritual reflection and is a wonderful companion for the Easter season. This poster is just right for hanging on the wall or keeping on a table for daily coloring. Share these with your congregation, youth group, friends, and family, and keep them on hand for coloring fun.
Print your copies locally! Can't wait for shipping on this calendar? Check out the downloadable version for printing at your local print shop! *Please note this digital download product is Copyright 2021 Forward Movement and only licensed for local printing, and not for any other distribution method. All applicable copyright laws apply. Print as many as you'd like, but the contents may not be shared through other channels, such as email/social media, or any other distribution channel.
---
Celebrating the 50 Days of Easter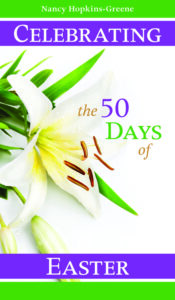 The fifty days of Easter offer an opportunity to practice living as a resurrected people- and then to take that practice into the rest of the church year.
In this pamphlet author Nancy Hopkins-Greene explores ways let go of fear, cultivate signs of new life, read the Bible, bring new life to others, and invite God into your questions.
Pamphlets come in packs of 10 and make great additions to care packages!
---
Easter and Holy Week Infographic Bundle
This downloadable series is comprised of five compelling visuals that explain much of the history, traditions, and practices surrounding Holy Week and Easter in the Anglican tradition of Christianity. Created by designer and Episcopal priest Chris Corbin, these infographics provide a contemporary way to engage and teach people of all ages about their faith.
The Easter & Holy Week Evangelism Bundle includes Holy Week, The Triduum, The Way of the Cross, Easter, and Pentecost, and is intended for print and digital distribution.
You'll receive a download link to the high resolution PDF, JPEG, and PNG versions of each infographic; suitable for printing in-house, taking to a local print shop, sharing on your website or social media channels, and/or incorporating into a publication. Files print nicely on standard ledger paper (11" x 17") or could be taken to a local print shop to be made into posters.
---
50 Day Bible Challenge Series
You and your community can easily take a deep dive into one of the four Gospels, the Book of Acts, or see how scripture connects with the Way of Love practices.
Our 50 Day Bible Challenge books are perfect for the Easter season, with daily scripture, meditations, and prayers written by dynamic spiritual leaders from across the United States and around the world.
These titles, edited by the Rev. Marek Zabriskie, are part of The Bible Challenge, a global initiative to encourage daily engagement with scripture and an exploration of the Word of God.
Explore 50 Day Bible Challenge books now!
---
Explore Bible stories from the inside out, with the Bible Spy Series!
Perfect for children and families!
From author Lindsay Hardin Freeman, The Spy on Noah's Ark and The Spy at Jacob's Ladder bring the Bible to life, with collections of popular stories told from the inside out. Each page is sure to stir up your heart and mind as you read along, meeting old friends and making new ones.
You are invited to be a spy too at some of the most beloved stories of the Bible, placing yourself as participant and witness to God's unfolding and unfailing grace and love. For ages 7-12. Perfect for emerging readers as well as for adults and children to read along together.
---
Take a personal spiritual journey with My Way of Love, powered by RenewalWorks
My Way of Love, powered by RenewalWorks is a personal guide for the spiritual journey, providing coaching to help individuals grow along the seven practices for Jesus-centered life: turn, learn, pray, worship, bless, go, and rest. It begins with a brief online survey which assesses where you are in your spiritual life.
Created in partnership with the Office of the Presiding Bishop of the Episcopal Church, this online assessment and coaching tool provides tips for improving your own spiritual journey, based on research from hundreds of thousands of Christians.
You can complete the initial assessment and stop there, or sign up for an eight-week series of emails that will offer some suggestions, coaching for how you can grow spiritually, and ways you can go deeper in love of God and neighbor.
---
Explore our interactive eCatalog for more ideas!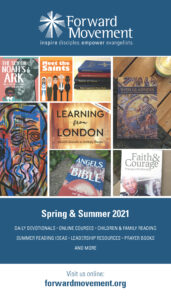 Our online catalog provides many more ideas for individuals, families, and congregations.
Watch videos from our authors, browse our online courses from ChurchNext (our online learning platform), and learn about subscription options to Forward Day by Day, our iconic daily devotional.
View our interactive eCatalog here!