Forward Movement has announced the 2022 reflection words for AdventWord, a global online advent calendar and community of disciples. For nearly a decade AdventWord has inspired followers of Jesus who wish to add an accessible prayer practice to their daily routine during this holy season.
Daily meditations and images—inspired by a prompt word selected from the daily lectionary readings—will be released at adventword.org, beginning Sunday, November 27.
Participants can sign up to receive this daily message, in English and Spanish, by email or by following AdventWord on social media.
Many followers join the creativity each year by sharing their own personal reflections across social media using #AdventWord. Participants respond with photos, written responses, crafts, drawings, poems, found art, and other creative expressions inspired by the day's selected word.
"This year we enlisted volunteer community members to help with the selection of prompt words from the daily lectionary readings," said Richelle Thompson, managing editor at Forward Movement. "The online gathering of dozens of AdventWord community members was an inspiring way to kick off the planning for 2022 and a strong reminder that AdventWord is community-driven."
All-in-one graphics, bulletin inserts and printable calendars of the 2022 prompt words are available for download at adventword.org.
The reflection prompt words for AdventWord 2022 are:
27-Nov: Walk | Caminar
28-Nov: Together | Juntos
29-Nov: Teach | Enseñar
30-Nov: Mountains | Montañas
1-Dec: Make | Hacer
2-Dec: Ready | Preparado
3-Dec: Unity | Unidad
4-Dec: Delight | Deleite
5-Dec: Rain | Lluvia
6-Dec: Welcome | Acogida
7-Dec: Winnowing | Zarandear
8-Dec: Breathe | Respirar
9-Dec: Fire | Fuego
10-Dec: Flourish | Florecer
11-Dec: Messenger | Mensajero
12-Dec: Wilderness | Desierto
13-Dec: Stranger | Forastero
14-Dec: Beloved | Amados
15-Dec: Thirsty | Sediento
16-Dec: Traveler | Viajeros
17-Dec: Majesty | Majestad
18-Dec: Purify | Purificar
19-Dec: Sign | Señales
20-Dec: Hear | Oír
21-Dec: Obedience | Obediencia
22-Dec: Choose | Elegir
23-Dec: Restore | Restaurar
24-Dec: Birth | Nacimiento
25-Dec: Emmanuel | Emanuel

Follow AdventWord for more information and updates:
---
AdventWord: Palabras que invitan a la reflexión
Forward Movement acaba de anunciar las palabras de AdventWord para el Adviento de 2022. AdventWord es una iniciativa anual que incluye un calendario de Adviento y una comunidad de discípulos que se enfocan en una palabra diaria que invita a la reflexión.
Por casi una década AdventWord viene inspirando a los seguidores y seguidoras de Jesús que desean hacer la meditación parte de su rutina diaria durante el tiempo de Adviento.
Las meditaciones y las imágenes diarias provienen de las lecturas del leccionario diario. Las comenzaremos a publicar en AdventWord.org a partir del domingo 27 de noviembre.
Los participantes pueden inscribirse para recibir un mensaje diario, en inglés y en español, por email o siguiendo a AdventWord en las redes sociales.
Muchos seguidores se unen al proceso creativo y comparten sus propias reflexiones en las redes sociales usando la etiqueta #AdventWord. Y los participantes responden con fotos, escritos, manualidades, dibujos, poemas, arte creada por otros, y otras expresiones creativas inspiradas por la palabra del día.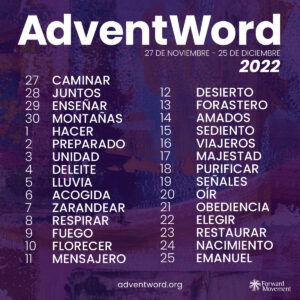 Richelle Thompson, editora gerente de Forward Movement, declaró: "Este año logramos enlistar a voluntarios que nos ayudaron a elegir las palabras tomadas de las lecturas del leccionario diario. Reunimos en línea a docenas de miembros de la comunidad AdventWord, lo que fue una manera muy inspiradora de lanzar el planeamiento de 2022, y nos recordó vívidamente que AdventWord es un programa de participación comunitaria".
Se pueden descargar boletines y calendarios para imprimir con las palabras de 2022 en este enlace: AdventWord.org.
Las palabras seleccionadas para AdventWord en 2022 son las siguientes:
27-Nov: Walk | Caminar
28-Nov: Together | Juntos
29-Nov: Teach | Enseñar
30-Nov: Mountains | Montañas
1-Dec: Make | Hacer
2-Dec: Ready | Preparado
3-Dec: Unity | Unidad
4-Dec: Delight | Deleite
5-Dec: Rain | Lluvia
6-Dec: Welcome | Acogida
7-Dec: Winnowing | Zarandear
8-Dec: Breathe | Respirar
9-Dec: Fire | Fuego
10-Dec: Flourish | Florecer
11-Dec: Messenger | Mensajero
12-Dec: Wilderness | Desierto
13-Dec: Stranger | Forastero
14-Dec: Beloved | Amados
15-Dec: Thirsty | Sediento
16-Dec: Traveler | Viajeros
17-Dec: Majesty | Majestad
18-Dec: Purify | Purificar
19-Dec: Sign | Señales
20-Dec: Hear | Oír
21-Dec: Obedience | Obediencia
22-Dec: Choose | Elegir
23-Dec: Restore | Restaurar
24-Dec: Birth | Nacimiento
25-Dec: Emmanuel | Emanuel
Para más información y noticias sobre AdventWord, seguir estos enlaces: