Dear friends in Christ,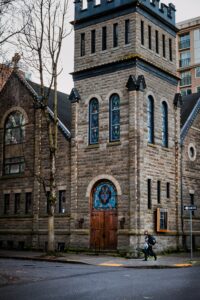 After a few months without much travel, I've had several back-to-back trips these last few weeks. As I write this, I am in Portland, OR to speak at a conference for church leaders. In the last few weeks, I've been to New York City; Hendersonville, NC; St. Louis; and Mt. Pleasant, SC.
One of the things I love about traveling across the Episcopal Church is meeting people who are glowing with the enthusiasm of thriving ministries. And I also savor my time with people who are struggling valiantly in difficult circumstances.
One can surely point to patterns of decline in our church, and that picture should be sobering for us all. I hope we can urgently seek to reverse decline not for the sake of institutional security, but because Jesus Christ has commissioned us to make disciples. There's a world that yearns for hope, and we need to share the Gospel!
But it's also true that there are thriving churches of all sorts: small and large, urban and rural, conservative and liberal, high and low. I hope we can pay attention to where the church is flourishing to see what we might learn and apply elsewhere.
Finally, it's also true that in these challenging times, many lay leaders and clergy are exhausted or even burned out. It's completely understandable. No one signed up for… this. So what are we to do?
As I've said before, we can take comfort in knowing that we don't have to save the church! Jesus has already saved the church, and our job is to tell the world that very good news. We can care for our souls by praying daily, reading the scriptures regularly, and worshiping weekly.
The world changes quickly, and it's never more apparent to me than when I travel all over and see this crazy, beautiful world in new ways. But in all this, we're never alone. We're never far from Christ's presence. Jesus has given us the gift of sacraments, sure and certain means of grace.
When you're not sure which way to turn, what to do at church to keep up with the times, or how to make sense of manifold challenges, turn to Jesus. We can be anchored in his grace as we meet him in the sacraments week by week.
Take heart! Jesus never leaves us. See you around, perhaps in an airport.
Yours faithfully,

Scott Gunn
Executive Director
---
More from our ministry:
A pocket-sized classic, perfect for travel: Forward Day By Day
Face the challenges of church life with hope: Signs of Life
Recently on our family blog: Growing Christians
Reflect on the sacrament of communion: Gifts of God for the People of God