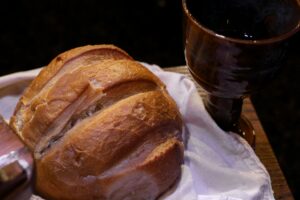 Dear friends in Christ,
This coming Sunday, we hear the story of Emmaus, when Jesus met his disciples on a road. Of course, they didn't recognize him until he broke bread with them. As they reflected on their experience, the disciples said to each other, "Were not our hearts burning within us while he was talking to us on the road, while he was opening the scriptures to us?"
At one level, maybe they knew they were talking with Jesus on that road, but they couldn't quite believe it. Their rational worldview told them they had seen Jesus die, and he must surely still be dead. And yet there he was. So it's perhaps understandable if they had trouble grasping this amazing reality.
I wonder if it's like that for us sometimes. Maybe we meet Jesus along the roads of our lives more often than we recognize. Maybe we begin to treat church like a rote experience, and we can't quite wrap our minds around the amazing reality that Christ is present for us as bread and wine are consecrated in the Holy Eucharist.
Last month, I heard someone speak about why it's important to go to church. She said, "I feel that I might meet Jesus out in the world, but when I go to church, it's like having an appointment to meet him. He shows up every time."
That's it, right there.
Let us keep our hearts and minds open to meet Jesus in the world, especially in the last, the lost, and the least. And let us celebrate with great joy on the Lord's Day each week, as we meet Jesus himself. As we break the bread and hear the scriptures, Jesus shows up every time.
Yours faithfully,

Scott Gunn
Executive Director
P.S. You can get some help reflecting on the Holy Eucharist and Christ's presence in Furman Buchanan's Gifts of God for the People of God Exploring Worship in the Episcopal Church.
---
More from our ministry:
Healing and Hope for God's Good Creation live course begins next week
Explore the sacraments further in Walk in Love: Episcopal Beliefs & Practices
Easter isn't a day, it's a season! Celebrate all season long at 50days.org