Note: As we continue to pray for healing for the Rev. Canon Scott Gunn, this weekly message will feature guest writers from the Forward Movement staff and board of directors. Today's message comes from Lindsay Barrett-Adler, Forward Movement's Development Associate.
Dear friends in Christ,
If your household is like mine, you might be scanning back-to-school sale advertisements, finalizing vacation packing lists, and already feeling the crunch of fall work projects. I would imagine very few of us are also planning for the upcoming church year and what gifts of God we might offer the people of God.
For a busy layperson, this might be difficult to contemplate. We have so much to do! Did you not read the classroom supply lists or see that urgent work email? Don't we pay clergy to run the church?!
We might think that's the clergy's primary job description, but I believe the work belongs to us all. I worship with a small community in Philadelphia and can unequivocally say that the ministries of the church would not happen without strong lay leadership. My husband, the rector of this church, has never been an elementary school teacher, financial adviser, professional musician, or carpenter. He does not have all the God-given gifts of everyone in the pews. If we are each uniquely and wonderfully made, how could he?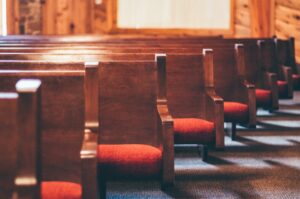 Like Saint Paul reminds us in Corinthians, the Church needs each one of us to thrive and be whole. The Church needs your wonder in worship to serve on the altar, passion for gardening in the flowerbeds, love of baking for coffee hour, and writer's pen for the church newsletter and social media. We need your vision, hope, and voice. Most of all, we need your presence! If you have not yet returned to church and are able to do so safely, please prayerfully consider doing so this fall. We miss you and the Church is not complete without you. You are a blessing.
This August I have set aside some time for prayer to think about what, in terms of time and talent, I might offer our small church. Where is God calling me to serve this year and how will it proclaim the Kingdom of Christ in the world? I hope you will join me!
Yours faithfully,
Lindsay Barrett-Adler
Development Associate
More from our ministry:
Revive: A small-group discipleship program to re-energize lay leaders
My Way of Love: A personal guide for your spiritual journey 
Vital Signs of Faith: Finding Health in Your Spiritual Life