Dear friends in Christ,
Our world seems to get more chaotic by the day. The news has been full of developments concerning the novel coronavirus (COVID-19). What are we to do as people of faith?
Of course, we can take care of ourselves and our communities following the guidance of medical professionals and government leaders. That goes without saying. But beyond that, we can pray. We can pray for wisdom, knowledge, strength, courage, and comfort. We can pray for ourselves, the sick, medical providers, government leaders, and others. We can pray.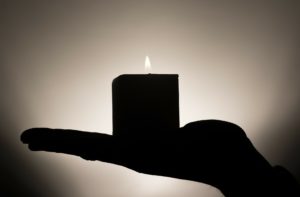 Some churches are now under orders to avoid in-person gatherings of any kind. It is possible the ban on public gatherings will widen. Even if we cannot gather with our church community, we can pray with our church. We can pray together online. We can pray at the same time. We can pray knowing that somewhere in the world, others are saying the same prayers we are. We can pray knowing that we are always joined in prayer with the company of heaven. When we pray, we are never alone.
Forward Movement has several free resources to help you pray. You might like to pray the daily office—morning prayer, noonday prayer,  evening prayer, or compline—which you can find on our Daily Prayer website. All you need to do is visit the site, and your computer or phone will serve up the correct prayers and readings for your time of day. If you're in a hurry, you can try the daily devotions for individuals and families, which only take a few seconds to pray. They're online also.
Of course, you can also find these prayers in the Book of Common Prayer. Morning Prayer starts at page 37, and the daily devotions for individuals and families begin at page 136.
Perhaps you'd like to listen to the prayers. We offer a daily podcast of morning prayer—A Morning at the Office, which you can find on your favorite podcast platforms. You can also just point your browser to the podcast's page and listen from there.
By the way, Forward Day by Day is also available as a podcast, and we post the reflection every day on our website.
We hope these free resources will be helpful in this difficult time and always. For now, I invite you to join me in prayer.
O God of peace, who hast taught us that in returning and rest we shall be saved, in quietness and confidence shall be our strength: By the might of thy Spirit lift us, we pray thee, to thy presence, where we may be still and know that thou art God; through Jesus Christ our Lord. Amen.
Yours faithfully,
Scott Gunn
Executive Director

Image: Pixabay
---
This Week's Sale: Gifts of God for the People of God
Worship can be a powerful way to encounter the living God. Our stories intersect with God's story as the gifts of God are celebrated and shared by the people of God. Episcopal priest Furman L. Buchanan explores and reflects on each element of Holy Eucharist, the service most often held on Sunday mornings. Moving from the first spoken word of the service—blessed—to the last phrase—Thanks be to God—Buchanan explains the theological and scriptural elements of the service, helping newcomers and longtime members alike gain a deeper understanding of this gift of God.
Buchanan also shares his own stories, connecting pivotal life experiences with the words and actions of Holy Eucharist. Thoughtful questions at the end of each chapter invite readers to reflect on their own stories and how they connect with God's story of love and life.
Regular: $15
This Week: $11.25
*Discount is valid until Sunday at 11:59 p.m. EST