Dear friends in Christ,
If you've been around young children much lately, you know about the "Baby Shark" global phenomenon, the song that has almost four billion views on YouTube. Charming circumstances led to "Baby Shark" becoming an unofficial anthem for the Washington Nationals baseball team and their postseason adventure.
Well, the Washington National Cathedral saw an opportunity. Or two or three. First, they outfitted some of their statues and grotesques in the home team colors. Then they released a now-viral video of the cathedral organists having a grand time with the massive national cathedral pipe organ and "Baby Shark." People in DC are getting a fun reminder of the cathedral's presence, and the sensation is spreading around the world.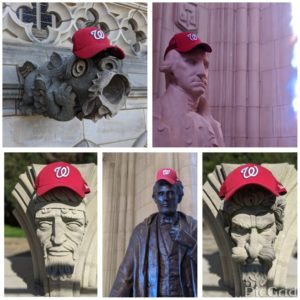 Now, playing a popular song on a church organ is NOT evangelism. Sharing the Good News of what God has done in Jesus Christ is evangelism. But making connections with secular, popular culture can pave the way to evangelism. We can show that we take Jesus Christ very seriously, but we don't need to take ourselves too seriously.
What I love about the Washington National Cathedral's work here is that it doesn't cheapen the core mission or value of the cathedral, but rather adds a bit of fun in ways that might attract interest from folks who otherwise wouldn't pay much attention to church. And that's worth something.
I know from eleven years of involvement with Lent Madness that humor can draw people into the church. Plenty of people have told Lent Madness creator Fr. Tim Schenck or me that they hadn't really practiced a Lenten devotion until the whacky race for the Golden Halo drew them in. I wonder if people will Google the cathedral or even show up for services because of a bit of Washington Nationals fun?
We should never replace the proclamation of the Good News with a few laughs. But we in the church can show our fun side, perhaps helping people see that we Christians are fundamentally joyful people rather than the dour some people might believe. Has your church found fun ways to engage your community? Have you laughed at yourself lately?
Yours faithfully,
Scott Gunn
Executive Director
Photo by the Washington National Cathedral
---
Today's Flash Sale: Social Justice Bible Challenge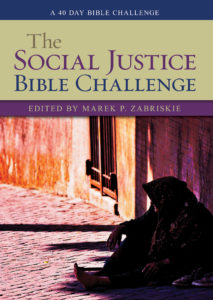 Featuring forty days of reflections by spiritual leaders and writers from around the world, The Social Justice Bible Challenge is an extension of The Bible Challenge, a global initiative to encourage daily engagement with scripture and an exploration of the Word of God. Disciples wishing to spend more time engaging the Bible on topics from poverty, hunger, displacement, and the care of widows and orphans will have their cups filled over and over again by the words of Scripture and meditations from people across the Church who engage with these realities each and every day.
Bridging the gap between knowing the Bible and living it, The Social Justice Bible Challenge is for those seeking to deeply engaged in scripture, and connect their compassion to God's Word.
Regular: $15
Today: $11.25
*Discount is valid until 11:59 p.m. Eastern Time