Dear friends in Christ,
I'm writing from Cincinnati where today promises to be another scorcher. It sure seems like the cool weather of fall is a world away. And yet, we're only a couple of weeks away from the change. One of my friends already has sent his children back to school. Others will be getting their backpacks ready soon. At Forward Movement, our summer "half-day Fridays" come to an end with the start of September. The point is, you'd better enjoy the last couple of weeks of summer life!
Whether or not the start of September makes much of a difference in your home, it does make a difference to lots of people. This time of year is one of those times when plenty of people think of finding a new church. Is your church ready for an influx of guests?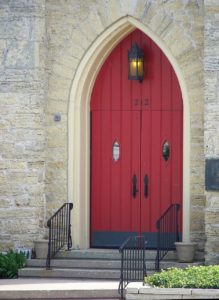 We at Forward Movement offer lots of resources to help guests learn more about the Episcopal Church, but it's not just about having a fresh pile of books and pamphlets. Now is a great time to check your signage, make sure your website is up to date, and clear away clutter in the hallways and entries.
I frequently hear that we need to provide a clear path for guests. How do they learn more? How do they get involved? How are they invited into membership? For small and large congregations, it's a challenge, though the challenge is different. Larger congregations with loads of programs need to provide a roadmap ("Start here, this is next, and finally this is how to become members."). Smaller congregation won't have a dizzying array of programs, but they still need to provide a path. Here the solution is probably an individual meeting between guests and either lay leaders or clergy.
Our church is slowly shrinking, and one of the reasons is that we don't always do a good job of inviting people through our doors. And when they arrive, we're not often good at welcoming and connecting them into ministries. Check out Invite Welcome Connect, including the book Mary Parmer wrote to help with this process.
Savor the last lazy days of summer, but make time to think about how your church will welcome guests. Lots of people are yearning for a community with purpose. They're waiting on you to invite them and to offer them a place.
Yours faithfully,
Scott Gunn
Executive Director
---
Today's Flash Sale: Note to Self
Winner of a 2019 Illumination Book Award for Spirituality!
Discover what God has written onto your heart. What do you want for your life? Who do you want to be in your life, and how do you want to live? We humans need reminders, and when it comes to making a consistent effort to be better people, it's important to have constant reminders. A "Rule of Life" is an ancient method for building soul memory, and offering reminders to ourselves of the person we hope to be—it is a practice of training your mind and soul to be kind and good.
Creating your own rule of life is grace that only you can offer to yourself, helping remind you to live the life you desire, and the life God wishes for you. Join author and Episcopal priest Charles LaFond as he guides you through the wisdom, creation, and application of your own Rule of Life.
Regular: $18
Today: $13.50
*Discount is valid until 11:59 p.m. Eastern Time