Dear friends in Christ,
As I write this, the Forward Movement board of directors is meeting in Cincinnati. I'm grateful for this faithful group of people who oversee Forward Movement's ministry and mission. This remarkable group of leaders gives generously of their time to support the work of Forward Movement to inspire disciples and to empower evangelists.
I'm excited about sharing with our board the work we have been doing and that we will be doing in the near future. And I always enjoy the perspective of our board members as they guide and shape our work.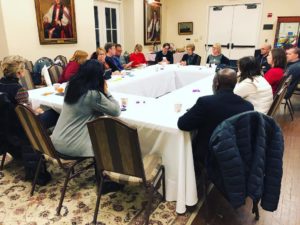 Please pray for our board meeting, our board members, and the staff of Forward Movement. We all love the work to which God has called us, and it is great privilege to serve God in this way.
There is a lovely prayer that dates back to the beginning of Forward Movement's ministry, and I invite you to pray this, if you find it helpful. It would certainly bless us!
O God, we ask your guidance and blessing for the Forward Movement of your church. Use it, we pray, to open our eyes to your glory and to the opportunities that lie before the church to reach people everywhere with the good news of Christ. Grant that the leaders of Forward Movement may be both wise and daring disciples, and stir up in them the will to share joyfully in this work with our prayers and gifts. Let not their purpose grow slack, that the nations of this world may become one holy people under the kingship of God and of our Lord Jesus Christ. This we ask in his name. Amen.
I especially love the prayer that we might be "wise and daring disciples." That's something for which all of us Christians might strive.
Yours faithfully,
Scott Gunn
Executive Director
Photo from our November 2018 meeting at St. James' Church, New York, NY.
---
Today's Flash Sale: Note to Self
Winner of a 2019 Illumination Book Award for Spirituality!
Discover what God has written onto your heart. What do you want for your life? Who do you want to be in your life, and how do you want to live? We humans need reminders, and when it comes to making a consistent effort to be better people, it's important to have constant reminders. A "Rule of Life" is an ancient method for building soul memory, and offering reminders to ourselves of the person we hope to be—it is a practice of training your mind and soul to be kind and good.
Creating your own rule of life is grace that only you can offer to yourself, helping remind you to live the life you desire, and the life God wishes for you. Join author and Episcopal priest Charles LaFond as he guides you through the wisdom, creation, and application of your own Rule of Life.
Regular: $18
Today: $13.50
*Discount is valid until 11:59 p.m. Eastern Time