Dear friends in Christ,
February offers The Episcopal Church lots to celebrate. This week, we celebrated the feast day of Absalom Jones, our first African-American priest ordained in 1804, alongside the 30th anniversary of the ordination and consecration of Barbara Harris, the first woman elected bishop in The Episcopal Church in 1989. For their ministries, for Presiding Bishop Michael Curry, for Canon Stephanie Spellers, and for the ministries of my bishop, priest, deacon, and lay Sisters and Brothers in this church, I celebrate you and thank God for you. I'm praying for you.
Presiding Bishop Curry calls to become Beloved Community. As a member of my diocese's Becoming Beloved Community Task Force, I spent last weekend on a Learning Journey to talk about race and racism. As one of four black people in a group of twenty-eight, I could feel my energy flowing with my tears as we delved into challenging conversations I didn't want to have which led to pain I didn't want to feel. When asked to write a commitment for the duration of this four-month journey, I wrote: I'll keep showing up. That's all I can promise. And that's a lot.
I pray that you find your way to show up for inclusion and equality. Show up at Absalom Jones celebrations. Show up on the Twitter and Facebook pages and blogs of people of color and listen. Show up for Becoming Beloved Community meetings prepared to work. Show up at church and demand to sing the music of people of color. Show up at your libraries and bookstores and read stories about my people. Show up and listen to the stories of people who don't look like you. Show up with your ears and hearts open and your mouths closed as we tell you what we need. Pray and discern about what you hear.
God calls us to live our lives of faith in community, and that community includes everyone who chooses to join us. In Beloved Community we feel the deep, abiding love we imagine God feels for us. Show up and be part of God's dream for us on earth. I'll be praying for you.
Peace,
Miriam McKenney
Development Director, Forward Movement
Clockwise from top left: The Rev. Canon Kelly Brown Douglas, The Rt. Rev. Herbert Thompson; Nia, Miriam, Kaia, Jaiya, and David McKenney; The Rev. Canon Nan Peete; The Rt. Rev. Barbara Harris; The Rt. Rev. Jennifer Baskerville-Burrows; The Most Rev. Michael B. Curry and my dad, The Rev. Wilson H. Willard, Jr.; The Rev. Canon Stephanie Spellers; Jaiya, Rev. Walter, David, Miriam, Ida, and Kaia McKenney.
---
Today's Flash Sale: Walk in Love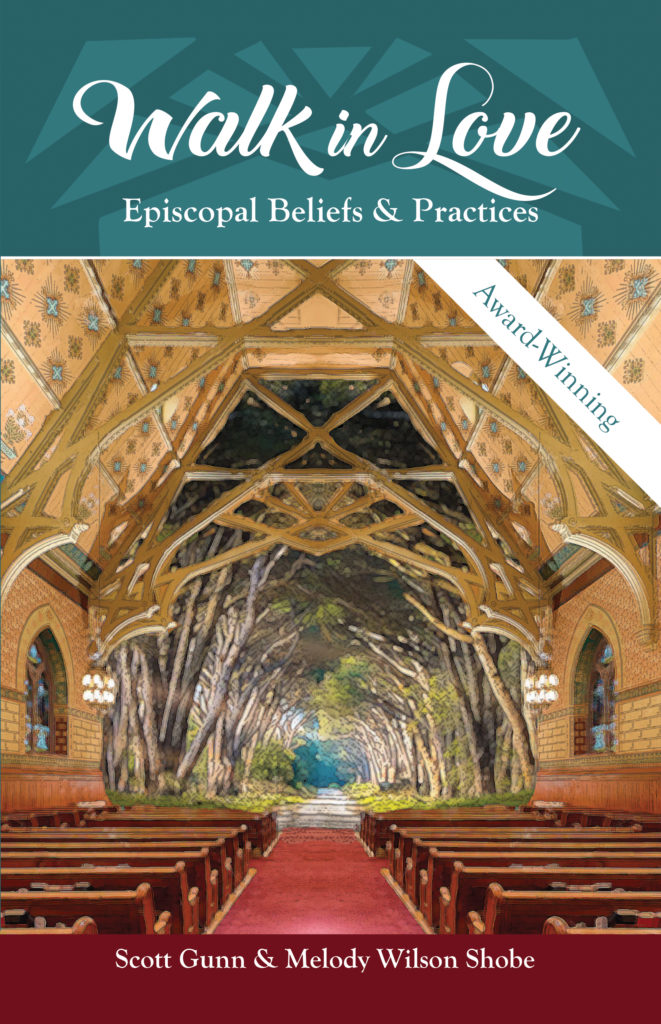 Take a journey through The Book of Common Prayer, the Christian life, and basic beliefs of our faith, guided by two Episcopal priests – Scott Gunn and Melody Wilson Shobe. Walk through the liturgical year, the sacraments of the church, habits of daily prayer, and the teachings of Anglican Christianity. See how our prayer shapes our belief and our lives and how our beliefs lead us into a deeper relationship with Jesus Christ.
Regular: $22
Today: $16.50
*Discount is valid until 11:59 p.m. Eastern Time
---
How is God calling you to enter the holy season of Lent? What path will you walk during these forty days?
Forward Movement invites you to explore and respond to how Jesus is tugging at your heart. While the season of Lent calls us all into a particular period of reflection, we choose different journeys. Depending upon where we are in our own seasons of life and faith, we may be called into a time of deep introspection, contemplation, and prayer. Perhaps God is calling us to an outward focus on works of mercy. Or maybe we need a time of formation, to connect our hearts and minds as we walk in love.
We offer three broad paths built around the Way of Love, the Presiding Bishop's call for practices that support a Jesus-centered life. Each path suggests a primary resource as well as numerous others that expand on the central theme. We offer these as guideposts, as trail markers, knowing and hoping that you will choose your own path during this Lent, and in doing so, make a choice to choose Jesus.