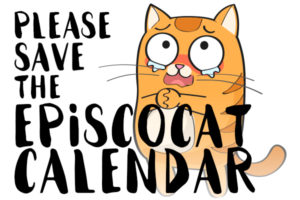 "Meow culpa." Mourn-no-more cat lovers.
Rising from the crowded cutting room floor, the canceled cat calendar that caused a church-wide hairball crisis is BACK!
With your help, Forward Movement is reintroducing the popular EpiscoCat Calendar in 2018!
Your GoFundMe donation will support our mission of inspiring disciples and empowering evangelists, one Jesus Meow-vement feline at a time. As a thank you, all donors will receive gifts to support daily spiritual practices. Gifts will ship in September.
Donations of $25 or more will receive one copy of the calendar to keep, and one to share.
Donations of $50 or more will receive 4 calendars, and a one-year email subscription to Forward Day by Day
Donations of $100 or more will receive 6 calendars, a one-year email subscription to Forward Day by Day, and a copy of Forward Movement's 2018, 365-day book of daily devotional meditations

Donate now to help make our church cat…holic again!

Forward Movement will also accept photo submissions to be included in the Episcocat Calendar through May 2017 (guidelines below). Please note, a donation does not guarantee that your photo will be selected for the calendar.
---

The EpiscoCat calendar is a collaboration between faithful readers, their beloved cats, and Forward Movement. This thirteen-month calendar (December 2017-December 2018) includes all the major feasts of the Episcopal Church, color-coded to coordinate with the liturgical seasons. Photos of esteemed felines from around the church—along with humorous captions—make this unique calendar a perfect gift for the Episcopal cat lover in the office, at home, or for yourself.
---
Send Us Your Cat Photos!
Forward Movement is accepting photo submissions for the EpiscoCat Calendar – our 13-month, wall-hanging calendars. If we choose your photo, you'll receive photo credit and a complimentary calendar.
Photo Requirements and Suggestions:
High resolution: 300dpi high-quality or better, check the file size before sending to ensure it's at least 2-3 MB
Let your furry friend shine – please, no people in your photos
Images must be crisp and in focus.
An interesting background and setting is encouraged.

All submissions must include (please read carefully):
Your Name
Address (so we know where to send your calendars if your photo is selected)
Email
Phone number (best way to reach you through September 2017)
Cat(s) name(s)
Suggested caption(s) for your photo (optional).

How to submit your photo:
Email your photos, along with the information listed above to episcopets@gmail.com. Please use the subject line: EpiscoCats Photo Submission
Submission Deadline: June 2, 2017
Only photos received on or before June 2, 2017 will be considered for this year's calendar.
Caption Contests:
Check our Facebook page starting in June for daily contests to help us write photo captions for the selected cat photos. If your caption is selected for print, you'll receive a calendar as a thank you.