In this week's edition of our weekly newsletter, Scott Gunn returns from a much-deserved break and reflects on what the time away reminded him about trust, calling it a blessing that we should enjoy.
---
Dear friends in Christ,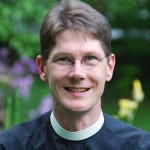 As I write this, I'm still emptying out my inbox after nearly a month away on holiday. After a very busy spring, I was ready for a break! As I'm returning to work, I am reminded how fortunate I am to serve with a wonderful team of dedicated people at Forward Movement.
While I was away, I didn't look at my work email (well almost not at all). So upon my return, I've been amazed by all that has happened in my absence. Our customer service team no doubt handled complex matters with sales and orders. Finance folks resolved issues with payments and invoices. The editorial team continued to produce outstanding content. Our marketing team did its thing, and so did our fundraising staff. Since I immediately left for a road trip, I haven't even been in the office to hear the stories, but I'm sure there were lots of "issues" along the way. But the team sorted out whatever needed sorting, and my emergency red phone never rang.
Why do I mention this? Well, partly, it's to brag on the good folks at Forward Movement. But there's a bigger lesson here. When we trust others to do their work, there is a double blessing. First, the one who is trusted feels empowered and encouraged to do her or his work and to do it well. I know that when I've been trusted to do a good job, I am more likely to rise to the challenge. Second, the one who trusts is able to bask in the glow of another's talents and passions. While I was on vacation, I got to rest, and people got to get stuff done. And today, on my return, mostly I am left to thank people and to sign their praises. Isn't that great?
Our culture sometimes pushes not to trust others. Will they let me down? Will they do it (whatever it is) the way I want? What if they fail? Surely I am indispensable! This important thing must have my input! That's a lousy way to live. It's not healthy for anyone. Trust is a blessing. Perhaps we should work on enjoying it more.
I know there are times when I have trouble stepping back and trusting others. And I know that whenever I manage to get it right, I am grateful. What about you? Do you trust your friends? Your family? Your co-workers?
Or, perhaps even more challenging, do we trust God? Do we believe that God will be with us–and act as if we really believe that?
Yours faithfully,
Scott Gunn
Executive Director
---
To get future reflections from Scott in your inbox, subscribe to Forward Today.