In this week's edition of our weekly newsletter from Scott Gunn and the Forward Movement team, Scott writes to us from Oregon, where he reflects on the gift of vocation, and asks: Have you thanked your clergy lately?
---
Dear friends in Christ,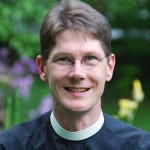 I am writing this from near the West Coast, where I have just spent 48 hours with priests and deacons who serve in the Diocese of Oregon. Several things stand out.
First, I am always inspired when I spend time with clergy leaders who serve faithfully in a variety of contexts–congregations large and small, hospitals, prisons, schools, and more. The gift of vocation is a wondrous thing, the ways in which God calls us to use our gifts.
Second, it was delightful to talk about discipleship in a sustained conversation. Thanks be to God, there is a growing desire across our church to find ways to encourage people in their journey as followers of Jesus and to find ways to share the Good News of God in Christ.
Finally, I want to encourage you to pray for your clergy and to thank them for their service. Mostly, clergy that I spend time with wherever I go are grateful for God's call and to serve in the church. But they could also benefit from your ongoing prayer and from a bit of encouragement or a note of gratitude. We all could benefit from these things, actually, and I hope your clergy are praying for you and giving thanks for your ministry at church and in the world.
Wherever God has called you to offer your gifts, I pray that you will know the riches of God's grace in your life and work. Today, I will be praying for my own vocation, and for the ministry of each person in the church.
Yours faithfully,
Scott Gunn
Executive Director
---
To get future reflections from Scott in your inbox, subscribe to Forward Today.