Do you catch yourself referring to Easter in the past tense? In this week's edition of our weekly newsletter from Scott Gunn and the Forward Movement team, Scott considers Easter—the whole season, not just the day—and wonders what an Easter discipline would look like.
---
Dear friends in Christ,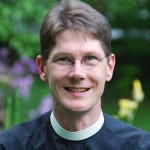 Did you have a good Easter? Wait, that was a trick question. The question should actually be, "Are you having a good Easter?" As many people in the church will know by now, Easter is not a day, but an entire season. It lasts 50 days! I wonder why we so early observe Lent, but very few people I know take on an Easter discipline. It's not too late, since we're just getting started on the season.
One of my friends theorized that that we have trouble with Easter because it's all about grace. The Resurrection and our very salvation are gifts for us. We don't need to do anything to celebrate them. We just need to bask in the glory of God's boundless love and grace beyond measure.
What might an Easter discipline look like? Maybe you'll spend a few minutes in prayer each day giving thanks for the many blessings God has given us, especially our redemption from sin in Easter.  Maybe you'll find a way to share the Good News of God in Christ with one new person each day of Eastertide. Think how full our churches might be if every Episcopalian shared the Good News with 50 people! You'll certainly have your own ideas.
One practice I especially commend to you is reading, reflecting, and responding every day on one of Forward Movement's websites, 50 Days of Fabulous. The Rev. Laurie Brock from Lexington, KY does a brilliant job of inviting a range of people from across the church to draw us into the Easter Season. Every day there's a new post. You can just visit the site every day, or you can sign up at 50days.org to get emails each morning for the day's Easter invitation.
Whatever you do, I encourage you to find a way to celebrate the Great Fifty Days of Easter.  
Yours faithfully,
Scott Gunn
Executive Director
---
To get future reflections from Scott in your inbox, subscribe to Forward Today.