Growing Christians: Celebrating Saints & Holy Days at Home
This book is the perfect guide to celebrate at home all of the important holy days in the Episcopal Church. The book features the best of our reflections from Grow Christians, our faith at home blog, on major feasts, holy days, and fasts. Each entry includes the appointed psalms and lessons for the day. Following the readings are reflections by a diverse group of authors: moms and dads, godparents and grandparents, friends and youth group leaders, all bound by their commitment to helping form young people in the faith.
---
The Spy on Noahs' Ark
Bible stories take on new life with this collection of eyewitness accounts from surprise sources: a dove, a lion, a stallion, and more. Using the ancient and imaginative art of storytelling, this book will delight children of all ages and begs to be read aloud. Adults will also enjoy these stories, and can use them to enrich personal and group Bible study. Discussion questions for children and adults are included at the end of each story, making it the perfect book for a church "On the Same Page" reading group or other intergenerational program.
---
The Spy at Jacob's Ladder
Have you ever wondered what stories stones might tell or whether a fishing boat can be friends with a faithful sailor? In the kingdom of God, every single thing has a story to tell and a song to sing—donkeys, sewing needles, secret caves, and water jugs! From the author who introduced you to The Spy on Noah's Ark, this collection of stories, told from the inside out, are sure to stir up your heart and mind as you read along, meeting old friends and making new ones. You are invited to be a spy too at some of the most beloved stories of the Bible, placing yourself as participant and witness to God's unfolding and unfailing grace and love.
---
The Path: Family Storybook
Explore the greatest stories of all as a family. This storybook recounts the major stories of the Bible, from creation to revelation, in a way that engages children (and those who love them!). The book features dynamic storytelling by best-selling author Lindsay Hardin Freeman, compelling questions by editor Melody Wilson Shobe, and original illustrations by artist Roger Speer. Can be read independently or would be a great companion to the Facilitator's Guide.
---
Meet the Saints
The Meet the Saints: Family Storybook provides twenty-four stories of saints for families to read together, colorful child-friendly illustrations, thoughtful questions for family conversations, prayers to pray together, and coloring pages for children to enjoy. Join a journey with the saints and your family, learning more about the monks, missionaries, prophets, doctors, evangelists, and more who have led us on our way.
---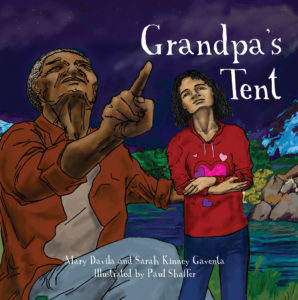 Grandpa's Tent
Written by two Episcopal priests—and mothers—Grandpa's Tent is a companion for children and families as they experience death, perhaps for the first time. The book explains what the Bible says about death—and life after death—and walks gently and honestly through the process of saying goodbye, attending the funeral, and grieving a loved one. The book also includes helpful talking points for adults to discuss death with children.
---
Family + Table Graces
When we pray before meals, we follow the example of Jesus, who prayed with his disciples during The Last Supper. Table Graces and Family Graces each include 30 prayers, and are designed to stand on a tabletop or counter with the same prayer viewed on both sides. Pray together at your parish hall, church school, conference center, lunchroom, and home with these easy-to-read study books. Includes 1 copy each of the following:
– Table Graces
– Family Graces