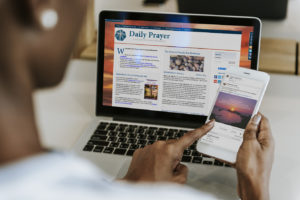 It is incredible and moving to witness the interactions of our online Forward Day by Day community. Each day, members of this vibrant and active community come together to reflect on the day's meditation and pray for each other. And although most have never met in real life, they know each other by name and pray, grieve, and celebrate together. Join the conversation at prayer.forwardmovement.org and on our Facebook page. —Alyssa Finke, Marketing Coordinator at Forward Movement.
---
"A good way to start my day. Oftentimes there's something very relevant to my circumstances; sometimes it's an epiphany of scripture and many times comforting conversation from the Disqus forum. Try it out!"
"Best wakeup call every day."
"Love your publication has been a constant daily reading in my home for years. You were asking about anchors in our lives other than Jesus. I lost my anchor, my best friend of 55 years ago to cancer and my favorite brother-in-law within a week to cancer. Your Forward Day by Day publications was a blessing. Thank you so much, and God bless all of you there."
"I get up early to make sure I read this before I leave the house."
"The reflections are right on target for what we face in today's world. Rooted in Scripture for the ages, but I see the lessons throughout the day in the living world."
"I follow Forward Day by Day online, along with a wonderful group of people. We love the inspirational posts and how writers try to be inclusive in outreach, inspirational, and empathetic, and also both timely and timeless. The posts are well designed to speak to us in the here and now but also to show how the word of Christ has remain essentially unchanged across the ages."
"I am posting this in honor of Marshall Williams, a true FDBD saint who was referred to as the "Moses" of the online FDBD community. It's very fitting that Marshall was able to soldier on in his fight against cancer to make it to one more Veteran's Day. Marshall's Dad was one of the "Greatest Generation," men and women who sacrificed much for a noble cause. Marshall himself lived every day of his life dedicated to others. He is an inspiration to us all. We need more leaders like Marshall: leaders who listen, empathize, encourage, uplift. Peace be with you, Marshall."
---
THANK YOU to our online community who provides us with inspiration and support, day by day. Your presence and interactions with us and with fellow readers mean so very much to us.
Read the latest issue of Odyssey here.
Your support puts Forward Day by Day and other spiritual resources into the hands of those who need it most. Thank you for your prayers and continued generosity!