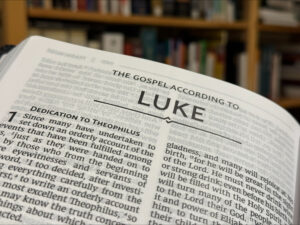 Dear friends in Christ,
Today the church commemorates St. Luke the Evangelist. We give thanks for Luke for many reasons. He is remembered for having written the Gospel of Luke and its sequel, the Acts of the Apostles. He is commemorated for his healing work as a physician. And for many Christians, he is venerated as the first iconographer.
On this day, I am especially grateful for the Gospel of Luke. His witness to the power, grace, and mercy of Jesus Christ still inspires people to turn toward salvation 2,000 years after it was written. Each of the four gospels offers a unique perspective on the life and ministry of Jesus Christ. But they are united in testifying to the passion, death, resurrection, and glorification of Jesus.
Luke's gospel has been called the "Broadway gospel" because it offers some of the great canticles of praise: the Magnificat, the Nunc dimittis, and the Benedictus domine. Here we are, twenty centuries after they were recorded, still singing these glorious songs of praise and thanks.
The narratives that Luke shared in his gospel and in Acts might inspire us in all sorts of ways. But perhaps we might also on this feast day be inspired to follow Luke's example. Let us all be quick to share the Good News. We might not have Luke's eloquence, but we can all testify to God's grace and mercy in Jesus Christ by the power of the Holy Spirit.
How can you be a witness?
Yours faithfully,

Scott Gunn
Executive Director
---
More from our ministry:
Explore Luke's writings: Luke Bible Challenge & Acts Bible Challenge
Now available: A brand-new Christmas Calendar from Jay Sidebotham
Reflect on baptism as a call to evangelism in our Lent 2024 devotional
Sing the Spirituals and pray for justice: Face to the Rising Sun