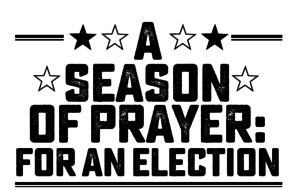 New prayer initiative offered in advance of elections in the United States
Forward Movement and The Episcopal Church Office of Government Relations are calling Episcopalians and all others to join in A Season of Prayer: For an Election. This prayer novena—nine days of devotional prayers—calls upon God for discernment in voting and for the well-being of our nation.
The season of prayer begins Tuesday, October 27, and continues through November 4, the day after the elections in the United States.
In a short video message to encourage participation, Presiding Bishop Michael Curry called on Episcopalians to join the initiative to pray for our nation, its people and leaders, and all the nations and people of the earth. Available with Spanish subtitles here.
Please encourage your congregation and your friends to get involved.
"Through the ministry of RenewalWorks, we've found that one of the marks of vital congregations is that they pastor the community. By that we mean they are engaged with the world beyond the walls of the church, present to the neighborhood, primed to serve," said the Rev. Jay Sidebotham, director of RenewalWorks, a ministry of Forward Movement. "In this election season, we carry out that important ministry with our prayers, making the commitment through personal spiritual practice to be present to our nation in this critical time, asking for God's grace for decisions made, thanking God for the grace that we can participate in this way in our common life, and trusting that grace will help us through. First, we pray. Then we vote."
All prayers come from The Book of Common Prayer, and materials include a brief litany to use each day.
Printable materials for individuals, churches, and families are available for download in English at www.forwardmovement.org/election and in Spanish at www.venadelante.org/eleccion.
Downloadable social media images will be made available for later in October for use by individuals and churches. These images will also be shared on Forward Day by Day social media channels each day of the novena. Follow us on Facebook, Instagram, and Twitter to stay up-to-date.
Additional election resources compiled by the Office of Government Relations are available on their Civic Engagement page.
"Our Vote Faithfully election resources build upon years of voter engagement efforts in the Church," said Alan Yarborough, church relations officer for the Office of Government Relations. "In our resources we emphasize both the personal responsibility to cast your own vote and to help others in your community to vote as well. We also emphasize other aspects of civic engagement that have strong ties to the election process including the 2020 Census, civil discourse, and identifying and combatting misinformation."
---
The Office of Government Relations represents the policy priorities of The Episcopal Church to the U.S. government in Washington, D.C. We aim to shape and influence policy and legislation on critical issues, highlighting the voices and experiences of Episcopalians and Anglicans globally. All policy positions are based on General Convention and Executive Council resolutions, the legislative and governing bodies of the Church. Learn more here.

Inspiring disciples and empowering evangelists around the globe every day, Forward Movement has been producing excellent, innovative resources to encourage spiritual growth in individuals and congregations for more than eighty years. Best known for the popular daily devotional Forward Day by Day, the ministry of Forward Movement also offers books and eBooks for groups or individual study, prayer resources, Christian formation courses, leadership events, Spanish and bilingual resources, pamphlets, downloadable resources, daily podcasts, apps for smartphones or tablets, and online engagement opportunities. Learn more here.