A few Forward Movement gift ideas to support and inspire your loved ones in 2020. For standard shipping, please order by December 11th.
---
Saint Augustine's Prayer Book

Saint Augustine's Prayer Book is a book of prayer and practice —with disciplines, habits, and patterns for building a Christian spiritual life. It will help you to develop strong habits of prayer, to prepare for and participate in public liturgy thoughtfully, and to nurture a mind and soul ready to work and give and pray for the spread of the kingdom. Comes leather-bound (black) with two ribbons in a gift box.
---
The Way of Love Bible Challenge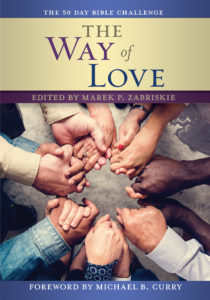 With seven core spiritual practices, the Way of Love offers an intentional, Spirit-led path to following Jesus. And what better guidebook for the journey than the Bible? The Way of Love Bible Challenge pairs each practice with a passage of scripture as well as reflections, questions, and prayers written by a variety of faith leaders. Come and see what God has to say about the spiritual practices of Turn – Learn – Pray – Worship – Bless – Go – Rest.
---
Sing to the Lord

A great gift for the music lover in your life! Richard H. Schmidt's meditations on forty classic hymns remind us of a shared faith—by generations before and with generations to come. Though the words and tunes may be entrenched in memory, Schmidt sheds new light on these hymns, inviting us to think about the texts through various lenses of scripture, faith, and personal experience. His reflections are painstakingly honest about how and when he has come up short as a follower of Christ—as well as how each time, he finds notes of forgiveness, love, and hope in these familiar songs.
---
Angels of the Bible

Episcopal priest Kate Moorehead invites us into a more dynamic understanding of the realm of the angels. Her devotions recount fifty key appearances of angels in the Old and New Testaments as she shares stirring theological reflections on the presence of angels and our life of faith.
In addition, the book features 56 full-color pages with depictions of angels throughout history. Art professor and scholar P. Scott Brown offers historical and theological context for these paintings of pivotal angelic appearances, including the Annunciation, the Celestial Hierarchy, and the Final Battle from Revelation.
---
Faith and Courage

In this powerful and poignant memoir, Archbishop Makgoba explores how the struggles of his ancestors shape his life today, how growing up in apartheid South Africa fuels his desire for justice, and how faith compels him to champion the difficult work of reconciliation. These lessons of faith and courage provide insight for audiences around the world, for all people who care about Jesus' commandment to love one another.
---
Note to Self

This 2019 Illumination Book Award Winner focuses on creating a "Rule of Life"—an ancient method for building soul memory, and offering reminders to ourselves of the person we hope to be—it is a practice of training your mind and soul to be kind and good.
Creating your own rule of life is grace that only you can offer to yourself, helping remind you to live the life you desire, and the life God wishes for you. Join author and Episcopal priest Charles LaFond as he guides you through the wisdom, creation, and application of your own Rule of Life.
---
Gifts of God

Episcopal priest Furman L. Buchanan explores and reflects on each element of Holy Eucharist, the service most often held on Sunday mornings. Moving from the first spoken word of the service—blessed—to the last phrase—Thanks be to God—Buchanan explains the theological and scriptural elements of the service, helping newcomers and longtime members alike gain a deeper understanding of this gift of God.
Buchanan also shares his own stories, connecting pivotal life experiences with the words and actions of Holy Eucharist. Thoughtful questions at the end of each chapter invite readers to reflect on their own stories and how they connect with God's story of love and life.
---
And finally…stocking stuffers for the Lent Madness fan in your life!