We've put together a few gift ideas for your new graduate! This list includes resources that will comfort, inspire, and rejuvenate your grad. And of course, a coffee mug!
---
Saint Augustine's Prayer Book 
"This is a must-have prayer book. It is the perfect companion, easy to carry, travels well and has such wonderful prayers and wisdom for daily life. I think if you have one prayer book only, this is the one to have. It is beautiful, leather-bound, gold cross accompanies a Book of Common Prayer or Missal well. The preparation prayers of holy eucharist are really good so it is always with me at service too. I glad I bought it and I think it will also make a great gift." -Rob Nelson
Pathways of Faith: An All-Ages Coloring Book
A coloring book for all ages—but especially for adults who may have forgotten the simple joys of creating—Pathways of Faith offers a respite from busyness and daily demands. Relax and restore as you spend time coloring these original illustrations that capture the amazing stories of the Bible and God's love for us. Come and spend some creative, refreshing time with God. The Lord knows we need it!
Faith with a Twist
Take time to relax and restore your physical, mental, emotional, and spiritual well-being with Faith with a Twist. This resource connects the traditional eight limbs of yoga with the church's understanding and emphasis on living a holy life. This approach creates a unique blend of spiritual practices and religious wisdom that are perfect for the yoga novice and the experienced practitioner alike.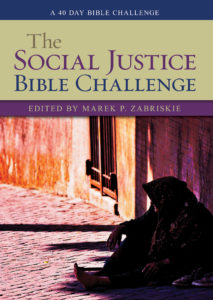 The Social Justice Bible Challenge
Disciples wishing to spend more time engaging the Bible on topics from poverty, hunger, displacement, and the care of widows and orphans will have their cups filled over and over again by the words of Scripture and meditations from people across the Church who engage with these realities each and every day. Bridging the gap between knowing the Bible and living it, The Social Justice Bible Challenge is for those seeking to deeply engaged in scripture, and connect their compassion to God's Word.
Bible Women: All Their Words and Why They Matter
"I'm forever changed by this book, and I'm only up to Kings. I had no idea of the suffering, loyalty, bravery, heartache, confidence of those women. WOW. It's hard to read the stories and their words. Very humbling." -Leigh Parmer
Lent Madness Travel Mug
Take your coffee, tea, and Lent Madness spirit on the go with this 15oz travel mug!
The Twible:
All the Chapters of the Bible in 140 Characters or Less…Now with 68% More Humor!
The Twible brings you every chapter as tweeted in 140 characters or less, from Genesis to Revelation! From start to finish, it brings the Bible to wonderful, wicked, weird life.